How Long Does it Take to Charge a Nissan LEAF?


The 2019 Nissan LEAF is a smart choice for Naperville drivers who want to optimize their commutes with a more economical, environmentally-friendly ride. If you're planning on replacing your old gas guzzler with this innovative all-electric vehicle, you're probably wondering how long does it take to charge a Nissan LEAF. The answer depends on which method of charging you choose: 240-volt public or home charging, 480-volt public charging, or with a standard 120-volt outlet. Explore the details of each charging method and their respective Nissan LEAF charge times, below.
240-Volt Public or Home Charging
This option, of course, requires a 240-volt outlet and a Portable Charging Cable. There are 30,000 of these Level-2 public chargers you can plug into throughout the U.S. Or, for the ultimate in convenience, Nissan has partnered with Amazon to offer drivers the ability to purchase a home charger with installation assistance. Details on the flat to full charge time are as follows:
With a 40 kWh battery: Flat to fully charged in eight hours
With a 62 kWh battery: Flat to fully charged in 11.5 hours
480-Volt Public DC Quick Charging
This is the quickest way to charge the Nissan LEAF. You'll find tens of thousands of these public charging stations throughout the U.S., giving you plenty of options when it's time to pull over and recharge. Here's how long it will take to go from flat to 80 percent charged, depending on your battery:
With a 40 kWh battery: 40 minutes
With a 62 kWh battery: 60 minutes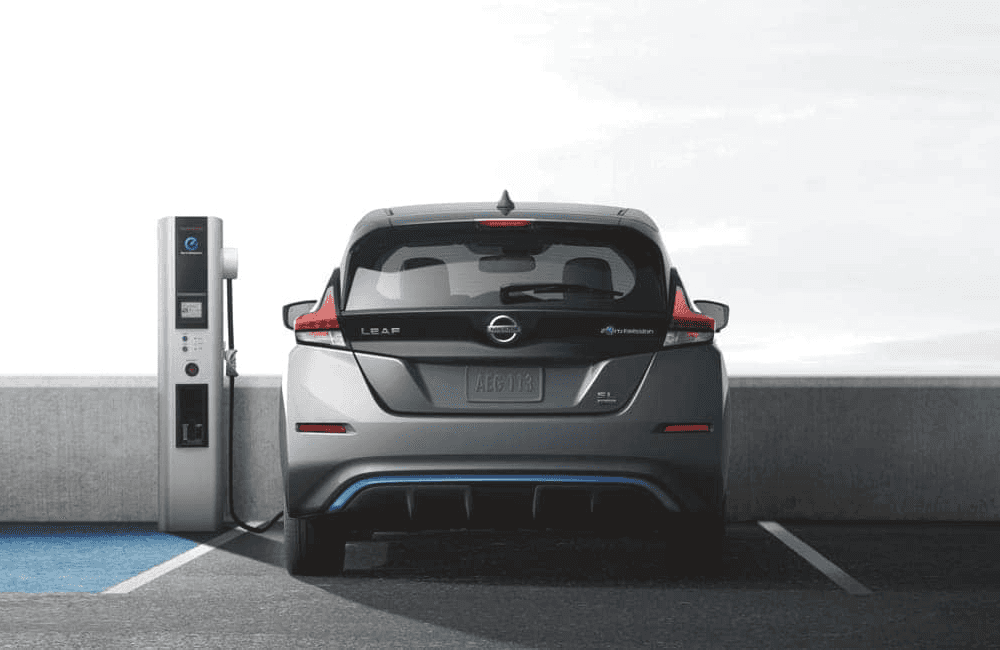 120-Volt Standard Outlet
Your Nissan LEAF will come equipped with a standard 120V charging cable that can be temporarily plugged into a 120V outlet for a level 1 charge. This is the slowest option, taking about 20 hours to charge. Though it's not the quickest way to go, it's a good option to have because it allows you to plug in for some additional range from almost anywhere that has electricity in Woodridge.
What Is the Nissan LEAF Range?
If you're curious about the Nissan LEAF charge time, you're probably also wondering what its range is. Depending on the battery size you choose, the LEAF range is as follows:
With a fully charged 40 kWh battery: Up to a 150-mile EPA range
With a fully charged 62 kWh battery: Up to a 226-mile EPA range
A 40 kWh battery is standard on the Nissan LEAF and generates 147 hp, while the 62 kWh battery generates 214 hp and requires an upgrade to the Nissan LEAF PLUS.
Test Drive the LEAF at Bill Kay Nissan Today!
Experience the ultra-efficient power of the 2019 Nissan LEAF for yourself when you stop by Bill Kay Nissan near Countryside for a test drive! Be sure to browse our new vehicle specials before you stop by, and contact us if you have any remaining questions about charging the Nissan LEAF.
More from Bill Kay Nissan
The 2019 Nissan Murano is a celebrated crossover, known for its well-appointed interior and powerful performance. Depending on whether you want front-wheel drive or all-wheel drive for your new Murano, you'll have a choice of three or four distinctive trim levels to choose from. Join Bill Kay Nissan as we explore each of the Nissan Murano trim…

Considering upgrading your Naperville commutes with a 2019 Nissan Rogue? With five trim levels available at multiple price points, there's a new Nissan Rogue for every shopper. Explore the Nissan Rogue prices and configurations with Bill Kay Nissan below to determine which best suits your unique budget and needs. New Rogue Inventory2019 Nissan Rogue Overview 2019 Nissan…

The 2019 Nissan LEAF is a smart choice for Naperville drivers who want to optimize their commutes with a more economical, environmentally-friendly ride. If you're planning on replacing your old gas guzzler with this innovative all-electric vehicle, you're probably wondering how long does it take to charge a Nissan LEAF. The answer depends on which…